If there is one sad place you'd like to go to at the mall for a crisp dose of depression, it's the maternity shops. Take one step in and you are drowned with horrible images of how you would look like wearing that frumpy tunic, hideous shirt or even worse - their idea of a dress. Horror images come to my mind looking at those endless rails that should come with a "not suitable for viewers with photo epilepsy " warning! The only thing you can reach for in a maternity store is a much-needed basic classic pair of denim in a straight (or if you're luck, skinny) leg with that wide elastic cotton waistband. Maybe some leggings with that same band too. A maternity bra/sports bra, maybe two. And this is where it ends. Literally.
Now to be fair some high street fashion stores' maternity sections are more forgiving, as I have found a really cool pair of jeans trousers and shorts at H&M and Topshop and a very wide selection online at asos. But maybe I was lucky at the stores, because stepping back and looking at the whole section they have dedicated to "mama" fashion - you will think I don't want to ever be a mama if mamas look anything like that!
Seriously, why does strict maternity fashion stores have to be so hideous and cheap looking? Ok, pregos do get bigger - mainly around the waist, i.e adorable baby bump and the bust. But that's it; they don't grow into a full rounded walking watermelon (I hope) for any designers to design a tent for them to hibernate under!
Ok enough b****ing about the so-called maternal fashion lack of taste or style. Let's look at the bright side - there is one! It's right there in your entire favourite, go to stores where you love shopping for your favorite brands and in your own wardrobe .  You can absolutely style that bump by doing a bit of adjustments in the size department, a bit of creativity in the layering department and by learning some amazing line and design visual illusion tricks - the secret holy grail is out!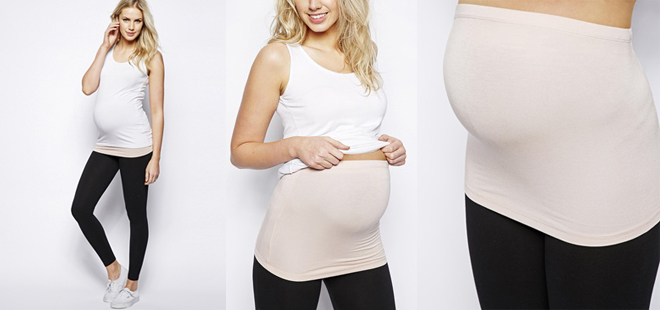 Tops: Go one size bigger to fit that blossoming bump and bust. Bonus tip: As you will develop a round appearance on top, opt for non round necklines and designs, no scoop lines or crew- simple! Go for V necks, boat necks and off the shoulder that show some skin and break the balloon effect! You can even use your own, just layer over a longer cami or tube top worn under. Trick is to pull the tune top so it sits below your bust, allowing more length to cover that bump all the way to your hips. Have fun mixing and matching colors and prints!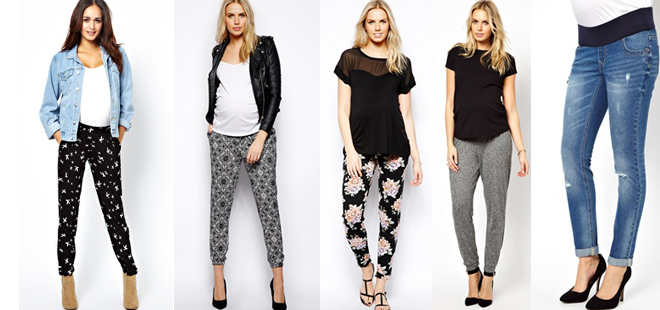 Bottoms: Do not walk towards the button, zipper pants or skirts rails - they just won't do, even in a bigger size. Instead hunt for low elastic waist pants or ones with wide cotton bands. You might be surprised that your regular size still fits if you pull the waist a bit lower. Once you're mid way in pregnancy then go for a size bigger. Go for peg pants, pajamas style printed pants with an elastic waistband and plenty of legroom and tapered hemlines and sweatpants- all perfect for pregnancy and still so in. Pair with a nice t-shirt and blazer or a denim shirt.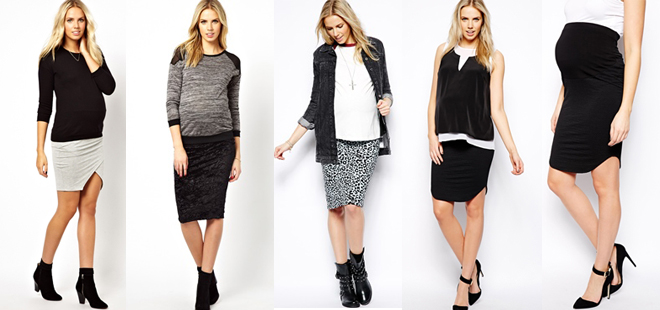 As for skirts, cotton is your go to material - with or without a wide elastic waistband. As cotton is naturally stretchable (with a bit of lycra), you can position the waist of the skirt a bit above your natural waistline for a comfortable fit, or below. I still wear my S size cotton straight skirts, they just feel a bit tighter now but not uncomfortable. Again, you can always go a size bigger, important thing is the waist doesn't pinch or else you'd end up taking it off in public - it does hurt and itch like hell when it's tight! Go for skirts with asymmetric hemlines as they add interest and divert from the roundness!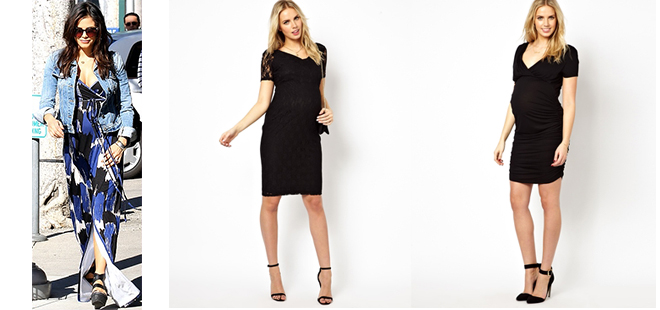 Dresses: You all know that the empire waistline (the one that sits right below your bust) is best for pregnancy, so stock on those. But the usual stretch cotton dresses in maxi or midi work just as fine! They will show your silhouette more as they are body hugging, but in a sexy stylish way. And you can always add a blazer, denim jacket or shirt on top to break that spray on lycra effect. Get one LBD as it will be your savior when you get that next invite to a fancy dinner or event.
Scarves and accessories are THE ESSENTIALS when styling maternity outfits. They add interest, colour and individuality. Even though you might feel too lazy to bother with what goes with what at this stage, do keep some statement necklaces and scarves in bright and neutral colours at hand. You can thank me later.
I can't promise you will still manage to pull off all your wardrobe items as it does get frustrating at times trying to find a suitable outfit for an important event with a wardrobe full of "am so tiny for your toes to fit in now" closet staring back at you. But with a bit of creativity mix and match you will find that dressing up is still fun and your bump is something to be stylishly proud of!
Image credit asos.com