Are you constantly looking for that next perfect pair of jeans to add to your collection of over 10 pairs? Jeans is an essential wardrobe staple for all the different reasons ranging from practicality and comfort to style. Nothing easier than grabbing a pair of jeans and dressing it up for a night out or down with trendy tees and jackets. But still, I always get questions on how and where to land the perfect pair for my body shape? When shopping with clients, I can make their lives easier by picking specific styles but it's really hard listing all the variances to look for when I don't know what your exact body shape is! My answer has always been that you can't just fit into any brand or size -you need to look at specific details and styles/cuts that will flatter your unique shape starting with the waist, crotch to the pockets and definitely legs width and style. Even the wash of the denim has a great effect in visually slimming or adding a few pounds.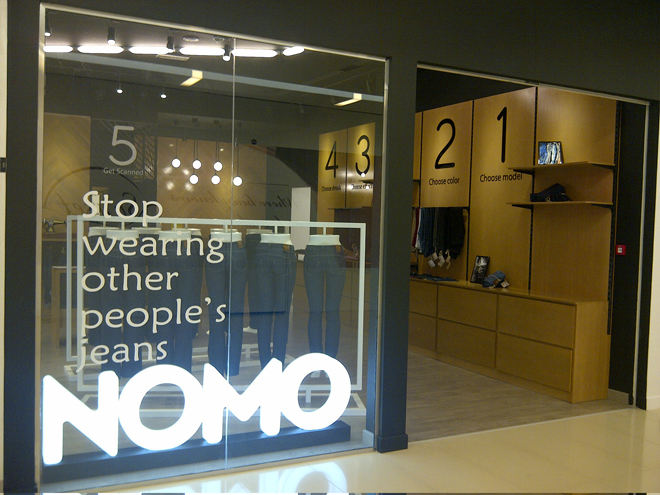 So just last week, I stumbled upon Nomo, a new shop open in Sunset mall and it looked like the answer to everyone's prayers!
Previously found only in Hamburg and Helsinki, it has a lot of promises to offer to the Dubai fashion crowd. As their story goes, NOMO makes computer-assisted made-to-measure jeans. You simply walk in the shop, choose the cut, color, effects and numerous details. Then they will take your precise measurements with their 3D body scanner - YES a body scanner - and your perfect made to measure jeans is only a month and a half dream away! To add to that,they arrive with a guaranteed satisfaction. So I do think the guys at Nomo will keep their promises.
I asked the sales lady if all those specific measurements means no one else can wear your jeans, and her answer was YES - it won't fit anyone but you!
Now even though I am the proud owner of 6 currently worn pairs of jeans,I am intrigued to try having my own personalized jeans. What do you think of this concept? Let me know if any of you tried it too!