The festive season is upon us and it's the best time to reflect the jolly spirit from your wardrobe to your finger tips. Now is the time to add some sparkle and glitter to take your outfit from basic to glam. With Metallic colours big on the trend list, you can transform any outfit by styling with the right dose of shimmer with your bag, shoes, jewellery and nails. Repeat the sparkle with one accessory like earrings, a statement necklace or arm candy but never wear all at once, as you don't want to go overboard and risk end up looking like a walking christmas tree! Another tip, super shiny nail polish looks chicest on short, naturally shaped nails. If you are sporting those super long nails, then keep the glitter for one nail only, usually the ring nail!
The same goes the other way round, if you prefer to dazzle with an embellished dress, keep your accessories in one solid color and go easy on the bling elsewhere. You can either go loud with your nails and make a statement with the right festive colour from glistening gold to opalescent silver or play it down with a solid neutral from the deep, rich reds and blues to the ever elegant nudes to achieve the perfect balance.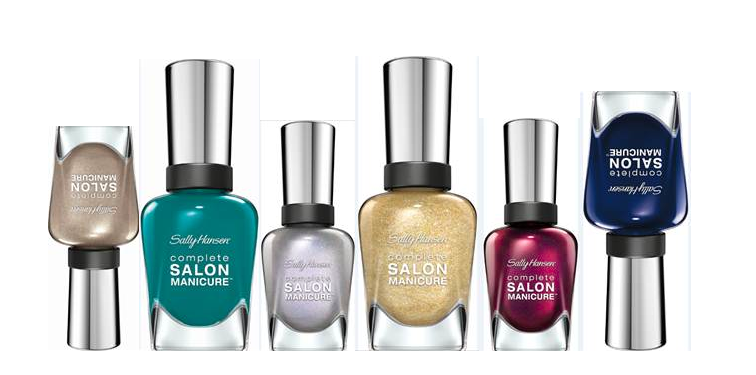 Go loud with your nails, make a statement with the color, and show off your festive spirit  with Sally Hansen Holiday range.
Like all Complete Salon Manicure shades, these opulent new additions deliver seven benefits of a salon manicure in a single formula. In addition to providing a Base Coat, Strengthener, Growth Treatment, Color and Top Coat with every stroke, Complete Salon Manicure delivers gel-like shine and chip resistance for the ultimate multi-tasking manicure. And the best feature? Their precision brush is designed to fit the curve of your cuticles and hug the contours of your nails, for better at home application  and superior wear. So even the clumsy can treat their nails to some at home pampering!

OPI latest  range of colours have an amazing variety that will match your festive mood too.
Remember, your choice of colour will either brighten up your look or down play your outfit. Go for off beat colors and try something new for the party but always choose the color that complements your skin tone first. Warm colours like Gold, oranges and anything yellow based goes best for warm skin tones and Cool colours like silver, star white and anything blue based goes best for cool skin tones. Sounds complicated? Get your colours done and be prepared to shine!
Last, add a piece of your own signature Awesome and carry yourself with confidence and style!