Man-ual 1: SS-2014 Season has Gone Pastel-listic!
Roll up your sleeves gentlemen, suits are becoming a playful attire as designers are taking cuts, fabrics, & colors into a new dimension.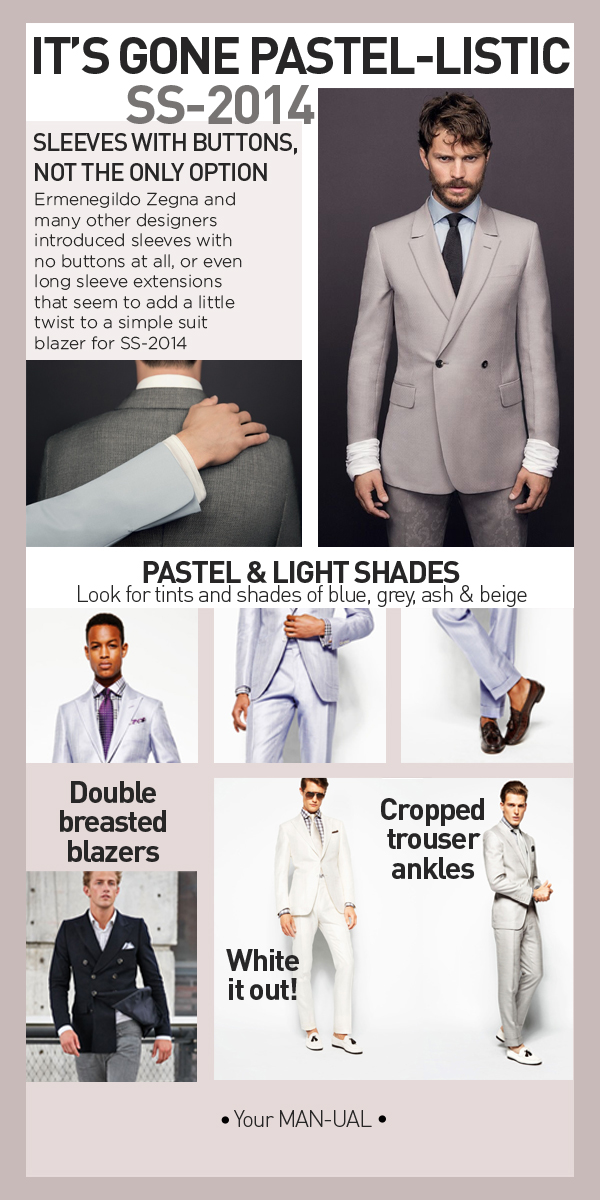 We keep assuming that fashion is a wheel, and that trends through out history keep coming back, but I'm happy to tell you that things have changed and we are about to see a bolder approach to men fashion regarding suits.
Taking a look at what Ermenegildo Zegna, Tom Ford, Ozwald Boateng, and many other designers tackled for the coming season, here is what we observed:
1.Sleeves are no more a rack to place four to five buttons in a row, Zegna introduced sleeves with no buttons at all or even long sleeve extensions that wrinkle up around your wrists adding a slight contrast to a simple blazer.
2.Double-breasted blazers that take your simple suit back to the posh 1980's,giving your a structured figure and a classy feel. what is making DP blazer bolder these days is the signature buttons thats add a little twist of modern.
3.Pastel & Light shades and tints of Blue, grey, ash, & beige is all over the runway for SS-2014. Aim for calm colors with a derivative combination for the shirt and tie.
4. White it out! white is no longer the suit color for weddings and occasions only, unleash freshness and chicness with a white suit this summer and give your suit a relaxed luxury feel with a contrasting tie and shoes.
5. Cropped trouser ankles show off that little piece of skin between your trousers and your shoes with cropped trouser ankles, you can even use those crops to showcase your new set of designed socks.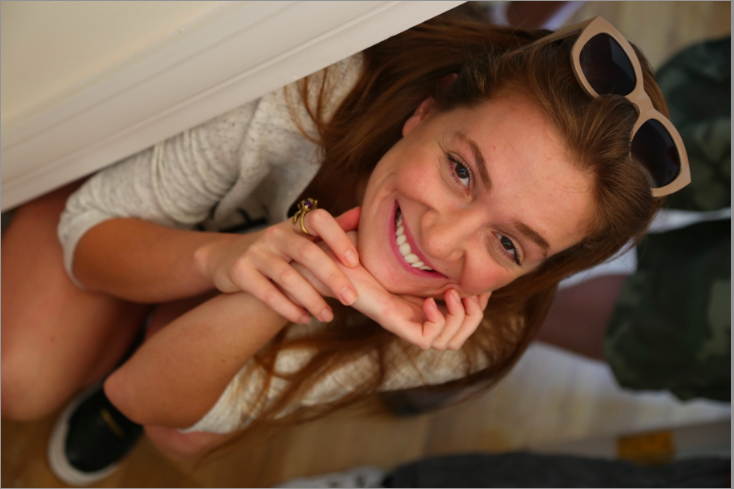 About Maya Sebai-
Maya is a walking visual owl, tackling fashion and style with her design eye for colour, cuts, texture and art. Coming form a Graphic design and multimedia background, she always adds a fresh approach to her layouts. Her love for fashion led her to join ranasaab.com as an aspiring stylist with a focus on men's fashion, an area she feels is under explored and under exposed! With that in mind, she started the MAN-UAL concept. A Manual that Guides men through efficient and time saving fashion inspiration to match their characters. With her enthusiasm for mens fashion, Maya focuses on giving today's man a sneak peek at the trends and styles that he would use efficiently while juggling his busy life schedule.Aside from men's lack of attention to style, she is also very much affected by reading and believes it's the most powerful and out reaching technique to evolvement. She is inspired by Ozwald Boateng. For more on MAN-UAL, You can send us a shout out at maya@ranasaab.com and follow on Instagram: @ranasaabstylist
The festive season is upon us and it's the best time to reflect the jolly spirit from your wardrobe to your finger tips. Now is the time to add some sparkle and glitter to take your outfit from basic to glam. With Metallic colours big on the trend list, you can transform any outfit by styling with the right dose of shimmer with your bag, shoes, jewellery and nails. Repeat the sparkle with one accessory like earrings, a statement necklace or arm candy but never wear all at once, as you don't want to go overboard and risk end up looking like a walking christmas tree! Another tip, super shiny nail polish looks chicest on short, naturally shaped nails. If you are sporting those super long nails, then keep the glitter for one nail only, usually the ring nail!
The same goes the other way round, if you prefer to dazzle with an embellished dress, keep your accessories in one solid color and go easy on the bling elsewhere. You can either go loud with your nails and make a statement with the right festive colour from glistening gold to opalescent silver or play it down with a solid neutral from the deep, rich reds and blues to the ever elegant nudes to achieve the perfect balance.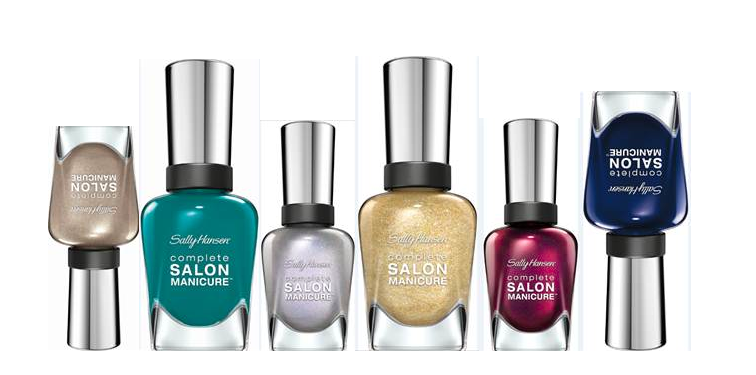 Go loud with your nails, make a statement with the color, and show off your festive spirit  with Sally Hansen Holiday range.
Like all Complete Salon Manicure shades, these opulent new additions deliver seven benefits of a salon manicure in a single formula. In addition to providing a Base Coat, Strengthener, Growth Treatment, Color and Top Coat with every stroke, Complete Salon Manicure delivers gel-like shine and chip resistance for the ultimate multi-tasking manicure. And the best feature? Their precision brush is designed to fit the curve of your cuticles and hug the contours of your nails, for better at home application  and superior wear. So even the clumsy can treat their nails to some at home pampering!

OPI latest  range of colours have an amazing variety that will match your festive mood too.
Remember, your choice of colour will either brighten up your look or down play your outfit. Go for off beat colors and try something new for the party but always choose the color that complements your skin tone first. Warm colours like Gold, oranges and anything yellow based goes best for warm skin tones and Cool colours like silver, star white and anything blue based goes best for cool skin tones. Sounds complicated? Get your colours done and be prepared to shine!
Last, add a piece of your own signature Awesome and carry yourself with confidence and style!